Fellowship Gathering, 10:00 am
Fellowship Gathering, a social time with coffee and refreshments, precedies the Worship Service from 10:00 -10:30 am in The Gathering Place.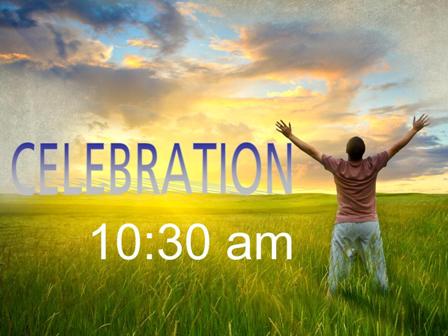 Celebration, 10:30 am
Celebration, held at 10:30 am, is led by the Worship Team and Band, and is designed for those who desire a more modern worship style, featuring the best of today's praise and worship expressions with a strong, relevant Biblical message and application.
During this service time, a Nursery, birth-24 months, is available. Also, Sunday School classes will be held for Toddlers, ages 2-3; Preschool, ages 3-4 and pre-K 5's; and Elementary, children K-grade 6.

Expressions of Worship
Though the expression for worship may be different and ever changing, the essence of worship does not change. The essence of worship is affirming a deep, personal commitment to God. That is what He seeks no matter what the expression of worship may be.
We invite you to join us for worship on Sunday mornings!